TUHS faculty members honor "Wildcats to Watch"
By, Jacquelyn White, Public Information Officer
Twenty students were chosen for recognition by TUHS faculty during the inaugural
"Wildcat to Watch" event. Principal Mary Alice Finn conceptualized this idea in order to allow
faculty to recognize students for any reason, and each could nominate only one student for this
special recognition. "These students are examples to their peers for what is possible when you
put in hard work, overcome odds, and be kind and courteous to those around you." Families and
friends were invited to celebrate the exceptional students and their diverse talents and
contributions to TUHS and our community.
Half of the certificated staff members were invited to nominate one student for the fall
"Wildcat to Watch" event, and the other half will be asked for nominations in the spring. Finn
said, "I'm excited for this opportunity to recognize students for a variety of reasons and
appreciate the opportunity to do it in front of their families and the faculty that has chosen to
recognize them."
Students chosen for the award include: Jonah Armstrong, James Burell, Kayna
Cuthbertson, Marline Figueroa, Jeanette Gamez Gill, Sergio Gomez, Eder Gonzalez, Ally
Houghton, Colt Matthews, Chloe Parmenter, Ashley Pence, Millie Reynoso, Kimberly Rivera,
Garrett Rolin, Roxana Rojas, Blake Smith, Jackson Van Roekel, Cenobio Velasco Hernandez,
Macayla C. Wells, and McKenlee Wescott.
Nominated by Dr. Jacquelyn White, Jonah Armstrong is the chief photographer for both
the Gusher and the Derrick. Armstrong, "has a special way of capturing each moment that will
live on forever in our student publications. Jonah spends countless hours of his free time
capturing these moments…" said White. According to White, Armstrong "joined yearbook this
year in order to continue his contributions and to help make it an incredible book of memories.
This year, he even went a step further to spend a Saturday, and many other days during the
school day, taking senior portraits for those who were unable to have them taken...he does
things like this daily and never asks for extra credit or anything else in return. He is truly an
inspiration and I hope other students and families see how much his pictures, words, and
student memories will provide priceless reminders of our times here at Taft Union High School."
James Burell was nominated by Mr. Carlos Chavira. Burell would like to attend culinary
school and this created a special bond with Chavira, the TUHS foods teacher. Chavira said,
"James goes above and beyond with the culinary program. After his high school job, he will
immediately volunteer to cook for fundraisers and events." Burell smiled as Chavira described
how he conceptualized the menu for the Wildcat to Watch event and told a story about how he
wanted to make hamburgers for his final last year. Chavira was skeptical, but then James baked
his own bread for the buns and showed him how talented he truly is.
Kayna Cuthbertson was nominated by music teacher Mr. Aaron Mosely. Cuthbertson,
"came in almost every Tuesday and Thursday to work on her voice over a period of 10 weeks.
When most students would have given up, Kayna was faithful to accomplishing her goals."
Mosely congratulated Cuthbertson for her hard work by nominating her for the recognition.
Marline Figueroa was nominated by Ms. Lisa Borrecco for her intelligence and hard
work. "She gives 100% on every assignment and values her education. I can always rely on
Marline to show up to class on time, prepared, and ready to participate. She is respectful, always
has a smile on her face, and never complains." said Borrecco when she described Figueroa's
traits in the program.
Jeanette Gamez Gill was nominated by Mrs. Emmy Lou Heber for her involvement in
extra-curricular activities and grades. According to Heber, "She is self-disciplined and takes
initiative to ensure she masters all content. She's quick to volunteer and answer questions. She's
an absolute pleasure to have in class and I don't think she gets the recognition she deserves."
Sergio Gomez was nominated by Ms. Michelle Lopez for his perseverance and drive to
better himself. Lopez said, "Sergio is capable, smart, and a very respectful young man. In
addition to those great characteristics, Sergio's current grades and varsity football experience
reflect promises kept." Lopez recalled times when Gomez's character and work ethic was
demonstrated. He was recognized for overcoming personal and academic setbacks and is,
"destined for great things."
Eder Gonzalez was nominated by Mr. Jim Uline, history teacher. Uline's reason for
nomination is Gonzalez's work ethic and efforts to overcome language barriers. Gonzalez has a
92% in Uline's World History class, which is very hard to do for many students and Uline knows
how much harder Gonzalez has worked to achieve that goal. "Eder is quite remarkable...He's an
extremely hard worker. I look forward to grading his papers and it's very often that I use his
paper as an answer key because I know that Eder works hard. He goes to tutoring almost five
days a week...he's an extremely hard worker and his parents must be extremely proud. I wish I
had more students just like him."
Ally Houghton was nominated by Mrs. Amanda Posey, TUHS band director and music
teacher. Posey remarked about how, "Ally goes over to Lincoln four days a week and helps with
young band students learning to play. She helps with percussion and clarinet. She does not play
the clarinet but is learning and teaching at the same time. Her quiet confidence is so peaceful
and comforting. She is a treasure and a wonderful influence on these young students."
Colt Matthews was nominated by Mr. Steve Parker. According to Parker, "Colt always
enters my classroom with a smile on his face and a 'high-five' to start the class. He is a true
delight to have in class." Parker said, "[Matthews] enjoys the class, and he works hard. He
makes others feel happy in the class and enjoy being part of the class."
Mr. Eric Newton nominated Chloe Parmenter, who "always has a great attitude. She is
very dedicated to doing well and tries her hardest at all times."
Ashley Pence was nominated by Mrs. Jan Ashley and Mrs. Staci McMinn. Pence is "quiet
and thoughtful. She always has her work done well and on time. [Pence] had a personal tragedy
this last year, but she did not let it derail her from her goals. She wants to be a psychiatrist and
will probably succeed."
Millie Reynoso was nominated by Mr. Ryan Hickman. Although Hickman was attending
another Taft High event, he wrote a lengthy tribute to Reynoso, which included the following:
"She is one of the friendliest, most caring, compassionate, humble, and respectful students with
whom I have had the privilege to interact. I am a father of five young boys, and I hope that all of
them will one day grow up to be as respectful, as polite, and as quality an individual as Millie is
today. These qualities are why she is a leader in the community and is a recipient of numerous
academic and athletic awards."
Kimberly Rivera was nominated by English teacher, Mrs. Stacy Lackey. Lackey wrote,
"The list of reasons why I'm nominating this outstanding student is long, but I will (try to) be
brief. She's always motivated to do well, she helps others, and she's extremely polite and kind.
When she knows she's going to miss class (usually because of sporting events), she asks in
advance what assignments she needs to complete...Kim is wise beyond her years; she 'gets
it.'...She appreciates and takes advantage of the educational opportunities our school has to
offer. And if these reasons were not enough, the fact that she runs in the summer heat of Taft on
our cross country team is reason enough to honor this impressive young lady."
Garrett Rolin was nominated by Mrs. Kara Ranney for his musical talents. "He has a
great ear for music and an amazing memory that he uses to play his songs. Garrett doesn't just
learn the music, he learns the SONG. It's not just notes for him; it's music. Garrett doesn't just
learn the notes to a song, he plays the music in his head, which makes the music come out of
him. On Friday, for recital time, he always learns an extra song to share with the class."
Roxana Rojas was nominated by Mrs. Monica Toro, TUHS Assistant Principal. Toro
nominated Rojas after having exactly four conversations with her. Toro commented that,
"Roxana is resilient, determined, and dedicated. She has faced adversity and challenges, yet
maintained her academics. I'm proud that she is a Taft Union High School student."
Blake Smith was nominated by Mr. Josh Tofte, mathematics teacher at TUHS. Tofte
wrote: "Blake is always willing to help. He is a very humble student and person. He has a great
attitude and is an extremely hard worker. He is always wanting to help someone when they need
it. He is also very encouraging and always has a smile on his face. I never hear him complain. He
is always positive and enjoys making other people laugh. He is a great kid."
Jackson Van Roekel was nominated by Mr. Matthew Davis, teacher and coach at TUHS.
According to Davis, "Jackson is the epitome of a successful student-athlete. He somehow finds a
way to balance an incredibly challenging academic course load, a grueling athletic schedule, and
a vibrant social life. I have seen him grow as a person these last four years, and I am proud to be
a part of his journey towards becoming a successful young man." Davis commented that Van
Roekel would work on statistics homework on a Friday afternoon, right before a big game,
showing his dedication to both academics and athletics. "He does not allow any time to go by
him. He works hard every moment he gets." said Davis.
Cenobio Velasco Hernandez was nominated by Mrs. Mallory Peters for being polite and
respectful. Peters wrote, "He has shown maturity in the time that I have known him." Velasco
Hernandez was unable to attend the event, but Peters said many nice things about this "Wildcat
to Watch."
Macayla C. Wells was nominated by Ms. Marsha Eubank as an exceptional student and
athlete. According to Eubank: "Macayla is a 4.0 student participating in multiple sports. She has
numerous honors and awards yet still displays a humble demeanor...She loves what she does.
She aims for excellence. She and her family create the best possible conditions for her success.
She has a learning mindset instead of a fixed mindset. She keeps herself encouraged not
discouraged. She keeps her eyes on her goal. She perseveres when others give up. Macayla is a
true example of what a student-athlete looks like. She is a sophomore with great potential."
McKenlee Wescott was nominated by Mr. Tom White. White discussed her dedication to
the CTEC law enforcement program and her fantastic abilities as a leader and Captain in the
program. White commented, "Every year I wonder what it going to be like when the seniors
leave and how I'm going to replace the captains that I have...I've never had the feeling like I have
this year. I don't know if I'll be able to find a right hand this good next year...She is the backbone
of law enforcement at this school and without her we wouldn't have the program that we have."
The students recognized as "Wildcats to Watch" are truly special and faculty enjoyed
having a chance to acknowledge their contributions.
Photo captions:
All photos by Jacquelyn White with the exception of one.
1. Aaron Mosley and Kayna Cuthbertson pose for a picture at the end of the evening.
Cuthbertson was nominated for her diligence in choir.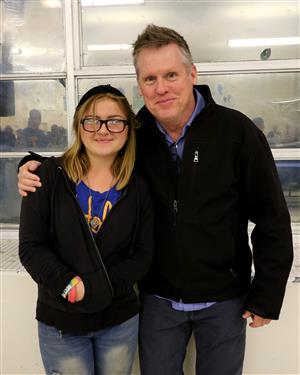 2. Emmy Lou Heber smiles as she talks about Jeanette Gamez Gill and her reasons for
nominating her for "Wildcat to Watch."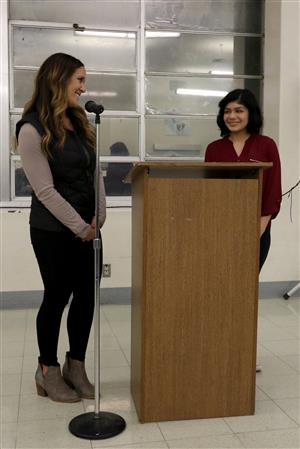 3. Jacquelyn White and Jonah Armstrong pose for a picture after the awards. Jonah was
nominated for his dedication to photography and student publications.

4. James Burell shows off his culinary skills as he serves the dinner for students and guests.
Burell was nominated by Carlos Chavira for his culinary talents and dedication.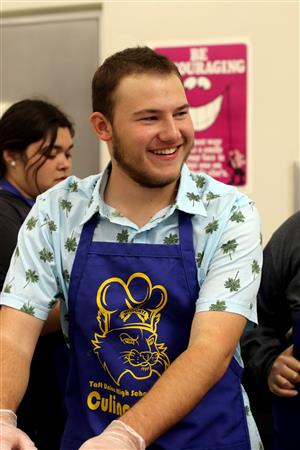 5. Jan Ashley speaking about Ashley Pence and her nomination by herself and Staci
McMinn.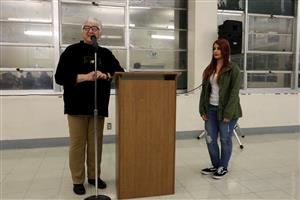 6. Kara Ranney awarding her "Wildcat to Watch" award to Garrett Rolin for his musical
talent and sharing this talent with his piano class.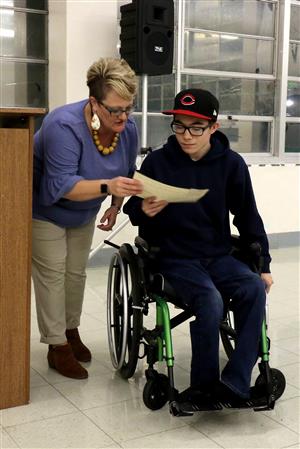 7. Marsha Eubank gives a hug to Macayla Wells as her proud family watches her receive
recognition for her athletic and academic abilities.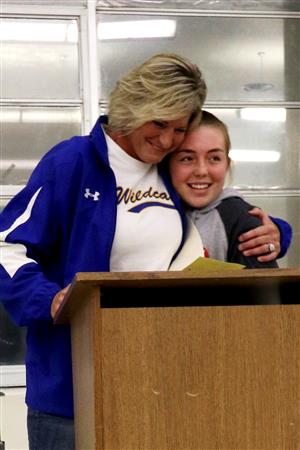 8. Matthew Davis poses with Jackson Van Roekel, his nominee for "Wildcat to Watch."
9. Michelle Lopez smiling proudly next to her nominee, Sergio Gomez.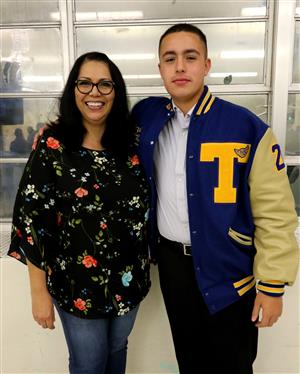 10. Stacey Lackey entertained the audience and made Kimberly Rivera smile as she
commented on Rivera's motivation and how much she appreciates her diligence.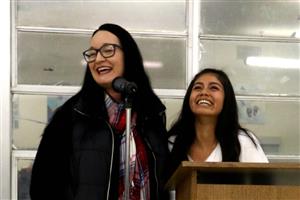 11. McKenlee Wescott humbly accepts her award from Tom White for her dedication to
CTEC law enforcement.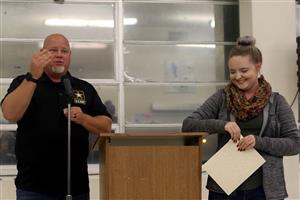 12. Wildcats to Watch pictured left to right: Kimberly Rivera, Garrett Rolin, Jeannette
Games Gill, Kayna Cuthbertson, Sergio Gomez, Eder Gonzalez, Jackson Van Roekel,
Macayla Wells, Chloe Parmenter, Blake Smith, Marline Figueroa, James Burell,
McKenlee Wescott, Jonah Armstrong, Ally Houghton, Roxana Rojas, and Ashley Pence.
Not pictured: Colt Matthews, Cenobio Velasco Hernandez, and Millie Reynoso.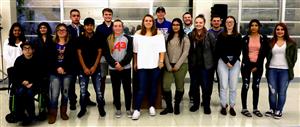 ---